cleft palate
Home /
cosmetic dentistry
/ cleft palate
One of the most common genetic deformities affecting the face is a cleft palate, cleft lip, or both. This type of facial irregularity occurs during pregnancy when there is not enough tissue present in the mouth or lip area for it to join properly before the baby is born. This condition may be due to genetics or an isolated birth defect, but a surgical procedure can restore appearance and function. The severity varies; it can be as minor as a small notch in the upper lip to as severe as a large gap extending through the lip and gum into the nose.
Several risk factors may increase the likelihood of an infant being born with this condition:
Family history of cleft lips or cleft palates
Exposure to substances such as smoking or consuming alcohol during pregnancy
Gender – Males are more likely to be born with a cleft lip, but females are more likely to be born with a cleft palate
Race – This condition is most common in children with Asian and American Indian heritage
Obesity during pregnancy
Prenatal ultrasounds during pregnancy may reveal a cleft lip or cleft palate.
Aside from the aesthetic issues, children with a cleft lip or palate face many other day-to-day functional problems.
Dental Problems. The presence of this condition increases the risk of cavities in children and can cause missing, extra, or displaced teeth. Oftentimes, extensive orthodontic treatment is necessary.
Ear Infections and Hearing Loss. Children who have a cleft palate are more prone to fluid build-up in the middle ear; therefore, they are at a higher risk for ear infections, which can ultimately cause hearing loss if left untreated. Many children need special drainage tubes in their eardrums and must undergo annual hearing checks.
Trouble Speaking. Children with a cleft palate or a cleft lip typically experience difficulty pronouncing words or carrying their voice, and it is common for their voices to be a higher pitch with a strong nasal component.
Difficulty Eating. A cleft palate can make it difficult for children to chew and eat properly.
How is a cleft lip or palate treated?
The fortunate news is that most children with a cleft lip or palate can regain normal functions through surgery, therapy, or both. Children frequently undergo a series of surgeries as they age to guide the lip and palate into their proper, fully developed positions.
Treatment for a cleft lip aims to eliminate the separation and restore balance and function to the upper lip. The first procedure is usually performed when the patient is 1–4 months of age. Additional surgeries may be needed starting at age 2 and continuing into the later teen years, depending on the specific condition. Further treatment, such as hearing aids or speech therapy, may be recommended as well.
Dr. Kunkel's experience at Riley Children's Hospital on the cleft lip and palate team, make him highly qualified to treat a variety of conditions associated with cleft lip and palate. If you are in need of a consultation to repair this facial defect, please contact Pikes Peak Oral Surgery & Dental Implant Center.
Testimonials
I'm Michael Wooden, originally from Columbus, Georgia. Retired military and now I live in Fountain, Colorado. I came to Pikes Peak Oral Surgery because the VA referred me. Five teeth, including four wisdom teeth, being removed and a bone graft. I was absolutely nervous when I came in. The staff was real friendly, and they gave me a lot of information, you know. Usually, people hold back the information because they don't want to freak you out, but they gave me the information and just kind of made me comfortable with it. It was easier than I thought it was going to be. I came in; the staff prepped me fairly quickly. Literally, I fell asleep and woke up, and the procedure was done. If I had any friends or colleagues that were looking to do any oral surgery or anything of that nature, and it was feasible for them to come to Colorado Springs, I would recommend Pikes Peak Oral Surgery, like ten times out of ten.
- Michael
My name's Elizabeth; I live here in Colorado Springs. Pikes Peak Oral Surgery was recommended to me by my dentist, Dr. Robert Levens, and it's the best thing that I could have ever done. I was nervous initially coming in, I think anybody is. All of the procedures went smoothly, without a hitch. The staff here at Dr. Kunkel's are absolutely wonderful. I feel like I have my own parking spot, like I'm part of the family. They've come back to hold my hands because I was nervous during procedures. They're always happy to see me, and it's very comforting. Dr. Kunkel is amazing. He is brilliant, and I was very comfortable having him take care of me. I would absolutely recommend Dr. Kunkel to anyone. Now that I've had all the work done, it's absolutely amazing. I feel like I have a functional mouth; it's pain-free. I can eat what I want. I can smile a lot better and be comfortable with it. I'm very pleased.
- Elizabeth
Hi. I'm Veronica; I'm from Colorado Springs. I came to Pikes Peak Oral Surgery to get my tooth pulled and then also to get a dental implant. I also needed a sinus lift, and during that process, there's a bone graft as well. I was definitely a little nervous. I've never had a tooth pulled. Everybody was very nice here, and so they eased any anxiety that I had by smiling. They were very calm, very nurturing, and just overall, it was just a very friendly environment. My interactions with Dr. Kunkel have always been positive. He's so nice and just definitely put me at ease. He actually personally called with each of my procedures was done later that evening to make sure that I was doing okay, which was amazing to me. It really made me feel like he, he really cared about how I was doing. I would absolutely recommend Dr. Kunkel.
- Veronica
Hi, my name is Ron, and I'm from Colorado Springs. What happened to me is I had a major bicycle accident, road bike, and I went over the front, landed on my face. I was taken to the hospital immediately, and I was very, very happy Dr. Kunkel was on duty that day. He had to basically push and lift my upper jaw back into position and then secure it with titanium plates underneath my cheeks. As a result, at the end, I was able to basically bite and chew normally. Since my surgery, I feel absolutely normal. The staff is excellent, and I just really enjoyed coming here. Dr. Kunkel could be my son, and if he was, I'd really be proud of him. I would highly recommend him for any of your oral surgery needs; I wouldn't go to anyone else.
- Ron
Hello. My name is Mickey, and I am from Colorado Springs, Colorado. I needed to have some oral surgery — an extraction, and bone grafts, and an implant. Dr. Kunkel was just the best. Well, I had a telephone call, and then I had a little note in the mail to see how I was, and I thought that was very special. I would definitely recommend Dr. Kunkel to anyone that I could stop on the street who needs to see someone in his talent area, and I just think that Dr. Kunkel and his staff are excellent.
- Mickey
My name is Brandon, and I'm from Colorado Springs. I came to Pikes Peak Oral Surgery because I went to school — I went to university — with Dr. Kunkel. I know that he has a really good reputation, so that's what led me to come there after two failed root canals. It's not something you do every day — a tooth extraction — so you know, I was pretty nervous about it. The staff here is great. Pretty much immediately after waking up from anesthesia from Dr. Kunkel removing my tooth, my pain level went down probably ten times. It was a lifesaver that he was able to relieve me of that pain. I would definitely recommend Dr. Kunkel to any of my friends or family in Boulder, Denver, or Colorado Springs.
- Brandon
Testimonials
Hello. My name's Diana; I'm from Monument, Colorado. I had an impacted wisdom tooth; this infection grew and grew. By the time I went to the emergency room, the infection had moved towards half my face and moving towards my neck. The ER doctors, they called in an oral surgeon who happened to be on call which I was very fortunate that that doctor was Dr. Kunkel. Dr. Kunkel checked on me every day and made sure that the antibiotics were the right ones to work for the infection that I had. The whole time, I felt I was in excellent hands, and he totally put me at ease through this whole procedure. I would recommend Dr. Kunkel and his staff to anyone.
- Diana
My first name is Rockey Bell; I'm from Colorado Springs, Colorado. I had this big lump inside my mouth, and I wasn't really sure what it was. It was a little painful, so I came here to see what they could do with that nasty-looking thing. I was very nervous because I had thought maybe it might be cancer, or I really didn't know what it was. Dr. Kunkel is a very proficient doctor. He's very intelligent, and he talks to you like you're human. I think the staff are amazing. They've helped me with every issue I've had. They made me feel comfortable. I would recommend anybody from Colorado Springs, Monument, Falcon to Dr. Kunkel.
- Rockey
I'm Andrea Brown, and I'm from Colorado Spring, Colorado. I came to Pikes Peak Oral Surgery because I had an abscessed tooth that was getting infected. Dr. Kunkel did an extraordinary job in treating me, in diagnosing me, and I feel real comfortable that I'm on the road to recovery right now. The staff at Dr. Kunkel's office is just wonderful. I bring them treats. They are so sweet. They are terrific. It's a real nice, friendly, tight-knit group. If I were to recommend an oral surgeon to any of my friends in Peregrine or Briargate, I would definitely recommend Dr. Kunkel. I've been thrilled with his care.
- Andrea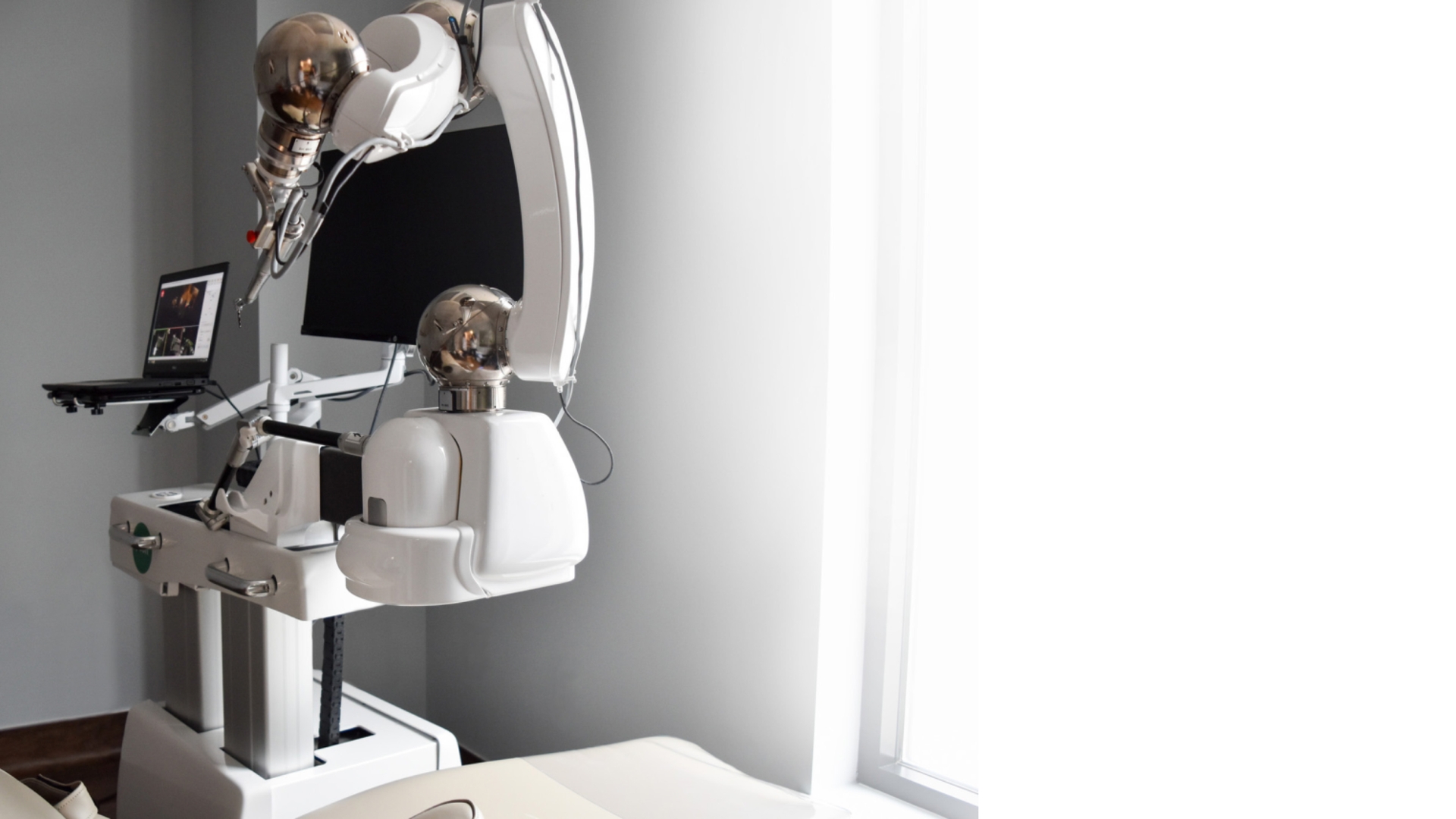 THE FIRST PRACTICE IN COLORADO!
OFFERING ROBOT ASSISTED SURGERY WITH YOMI®.
Yomi is only FDA Cleared Robotic device for oral surgery
CALL FOR AN APPOINTMENT
Call our office to schedule an appointment for any procedure.
(719) 264 - 6070 | Main
3475 BRIARGATE BLVD, #102
COLORADO SPRINGS, CO 80920
CALL FOR AN APPOINTMENT
Call our office to schedule an appointment for any procedure.
(719) 264 - 6070 | Main
contact us
let's get in touch