all on 4TM treatment
Home /
extractions
/ all on 4TM treatment
The All-on-4 Treatment Concept is a unique tooth replacement option using dental implants. It offers patients in need of a full arch of teeth replaced a highly efficient treatment option that usually involves a faster healing time and a lower cost than many other replacement options involving dental implants. Dr. Kunkel can restore an entire arch of teeth by inserting four specialized dental implants in the patient's upper or lower jaw. After a brief period of healing, a final fixed denture is placed to restore patient's beautiful white teeth.
Why choose the All-on-4 Treatment Concept?
When you have lost most of your teeth, some restorative options like removable dentures or numerous individual dental implants can tend to be extremely time-consuming and may require a longer healing process in some cases. The All-on-4 Treatment Concept provides an excellent alternative. When conventional dentistry has failed, and teeth are continually deteriorating despite care, this may be an ideal and less expensive replacement option that fully restores both aesthetics and function to your mouth.
Since the entire surgical procedure is usually completed in one visit, this allows the amount of post-surgical discomfort, swelling, and bruising that many patients experience with other replacement options to decrease. Additionally, this procedure is a cost-effective replacement for an entire arch of teeth and allows patients to solve both their functional and aesthetic problems much more quickly.
There are two primary benefits of the All-on-4 Treatment Concept:
Flexibility. The new replacement teeth can be attached to the four implants in the same appointment. This helps to avoid the delay that comes with many other surgical procedures used to replace teeth. Patients can start enjoying the benefits of their new teeth right away.
Functionality. The All-on-4 Treatment Concept anchors the implants at an angle to provide the highest ratio of implant-to-bone contact. This method offers replacement teeth that are secure and supported.
Am I a candidate for the All-on-4 Treatment Concept?
Many patients who are unable to receive traditional replacement options, such as a fixed bridge, can still be considered as candidates for the All-on-4 Treatment Concept. If you are in the process of losing an entire upper or lower arch of teeth, or you have already lost most of your teeth, and you currently wear a prosthesis such as dentures, you may be a candidate for this unique procedure. If you want to learn more information about the All-on-4 Treatment Concept, we encourage you to call and schedule an initial consultation with Dr. Kunkel at Pikes Peak Oral Surgery & Dental Implant Center.
Testimonials
My name is Chris Mussone, DDS, and my practice name is my name: Christopher Mussone, DDS, Family Dentist. I refer to Dr. Kunkel because I have a lot of confidence in him. I feel that when I send patients his way that they're going to come back happy. I send patients over here most often for implants and extractions. So when I send Dr. Kunkel patients, they're patients that I see generally for life. So, I trust him to treat my patients the way I would want them treated in my office. When my patients come back to me, they generally feel that Dr. Kunkel's office has treated them well and that he has followed up in an appropriate manner, and they've had no problems.
- Dr. Mussone
Hello. My name is Dr. Roger Kilcoyne, and I'm a general dentist at Kilcoyne Family Dentistry. I've been referring to Dr. Kunkel for a few years now. Not only does he provide great customer service but he also has excellent clinical results, from anything from simple extractions to complex implant cases. We've just found over time that our results and the patients that the happiness that they have in going to see Dr. Kunkel is what we're looking for in an oral surgeon. Dr. Kunkel and myself, we've been going to a couple of continuing education events together, and at these events, we talk to each other and make sure our philosophies are the same in treating patients. The continuity of care benefits the patients. The patients that I've talked to, once they see Dr. Kunkel, they just don't have any issues, and if anything arises, Dr. Kunkel is there to take the lead and fix any issues that may arise.
- Dr. Kilcoyne
Hi. I am Dr. Betty Jo Schope. I'm a general dentist, and my practice is Schope Dental. And you can check us out on schopedental.com. I love working with offices that help me to accomplish the best for the patients, and I get to be the quarterback of care for patients, but I put together a phenomenal team, and that's what I feel like I have with Pikes Peak Oral Surgery. So, it's very important to me that I have somebody that I can trust as if I was there. I'm not doing the procedure, but I have somebody that I would put my own hands and my own family member in their hands; I know that I'm going to get the quality of care that I would want for my patients. Patients, when they return to my office, they say, "Oh, I love them; they are so nice there. They take such good care of me. It was so much easier than I thought it would be.
- Dr. Schope
My name is Dr. Robert Levens. My practice is Levens Family Denstistry. It's at 1675 Briargate Boulevard, just down the road from Dr. Kunkel's office. Dr. Kunkel and I have, I think, a great relationship. Many times I've talked to him on his cell phone after hours about patients, and he just wants me to have confidence in what he's doing — you know, us be on the same page when we're working together — and so far, he's done a really good job with that. When you send a patient out to a specialist like an oral surgeon, you want to have confidence that the doctor — because he's only going to see them a few times — that he is going to take good care of them and do the best job he can because when they come back to my office, I'm going to be seeing them for the rest of their life, and I want them to be happy, so I feel like Dr. Kunkel has done that really well. He has shown a lot of integrity and empathy and concern for the patients, and he's always out for their best interest.
- Dr. Levens
I'm Dr. Christina Sletten; I am a general dentist, working in the Rockrimmon area at Rock Dental. I am a family dentist, and I also specialize in TMJ treatment and bite reconstructions. I like referring to Dr. Kunkel because he takes extremely good care of our patients. It is very, very important for us when we refer our patients to a specialist that we can tell the patients that they're going to get taken care of as well as what they are in this office. They always come back with the highest regard and compliments for Dr. Kunkel and his staff, his team, whenever they have been over here. It means a lot to me, and of course, when I get happy patients back, that makes me want to refer more people over here, too.
- Dr. Sletten
I'm Dr. Dwayne Moore for Woodman Views Dentistry, located here in Northern Colorado Springs. I like referring to Dr. Kunkel because he is knowledgeable; he's got a great staff, and he's got a great ethical view on how to treat patients. While the team-based approach with his office is seamless between our team at Woodman Views Dentistry and his team here in Pikes Peak Oral Surgery, we're able to communicate and give the patient exactly what they need. When they come back from here, they feel like they've had a great experience. They were comfortable, they were well taken care of, and they were taken care of in a professional manner, most importantly.
- Dr. Moore
My name is Dr. Neil Allan; I'm a general dentist. Business name is Centennial Dental Group; I practice on the west side of Colorado Springs. I like Dr. Kunkel because he is just such a nice guy to begin with, but he does a great job with his skills. The patients always come back happy. They are always thrilled to get in the same day for treatment, and they are just well taken care of. As a general dentist, we have some teeth that need to be removed. We're trying to restore teeth when they have to be removed. So, we're doing some implants together. He's helping me eliminate some pain in cases. He just does a real good job. When I have a patient in my office that needs to be seen the same day, my staff will call over to Dr. Kunkel's office, and invariably, they will be seen that very same day. Dr. Kunkel and I always chat together, and my staff knows — his staff communicates with my staff, and it's just a good team effort. I always ask when I refer out to specialists, "How did everything go," and when patients come back from Dr. Kunkel's office, they're very happy. They're pleased that they were able to be seen that same day and treatment is done well.
- Dr. Allan
Testimonials
Hello. My name's Diana; I'm from Monument, Colorado. I had an impacted wisdom tooth; this infection grew and grew. By the time I went to the emergency room, the infection had moved towards half my face and moving towards my neck. The ER doctors, they called in an oral surgeon who happened to be on call which I was very fortunate that that doctor was Dr. Kunkel. Dr. Kunkel checked on me every day and made sure that the antibiotics were the right ones to work for the infection that I had. The whole time, I felt I was in excellent hands, and he totally put me at ease through this whole procedure. I would recommend Dr. Kunkel and his staff to anyone.
- Diana
My first name is Rockey Bell; I'm from Colorado Springs, Colorado. I had this big lump inside my mouth, and I wasn't really sure what it was. It was a little painful, so I came here to see what they could do with that nasty-looking thing. I was very nervous because I had thought maybe it might be cancer, or I really didn't know what it was. Dr. Kunkel is a very proficient doctor. He's very intelligent, and he talks to you like you're human. I think the staff are amazing. They've helped me with every issue I've had. They made me feel comfortable. I would recommend anybody from Colorado Springs, Monument, Falcon to Dr. Kunkel.
- Rockey
I'm Andrea Brown, and I'm from Colorado Spring, Colorado. I came to Pikes Peak Oral Surgery because I had an abscessed tooth that was getting infected. Dr. Kunkel did an extraordinary job in treating me, in diagnosing me, and I feel real comfortable that I'm on the road to recovery right now. The staff at Dr. Kunkel's office is just wonderful. I bring them treats. They are so sweet. They are terrific. It's a real nice, friendly, tight-knit group. If I were to recommend an oral surgeon to any of my friends in Peregrine or Briargate, I would definitely recommend Dr. Kunkel. I've been thrilled with his care.
- Andrea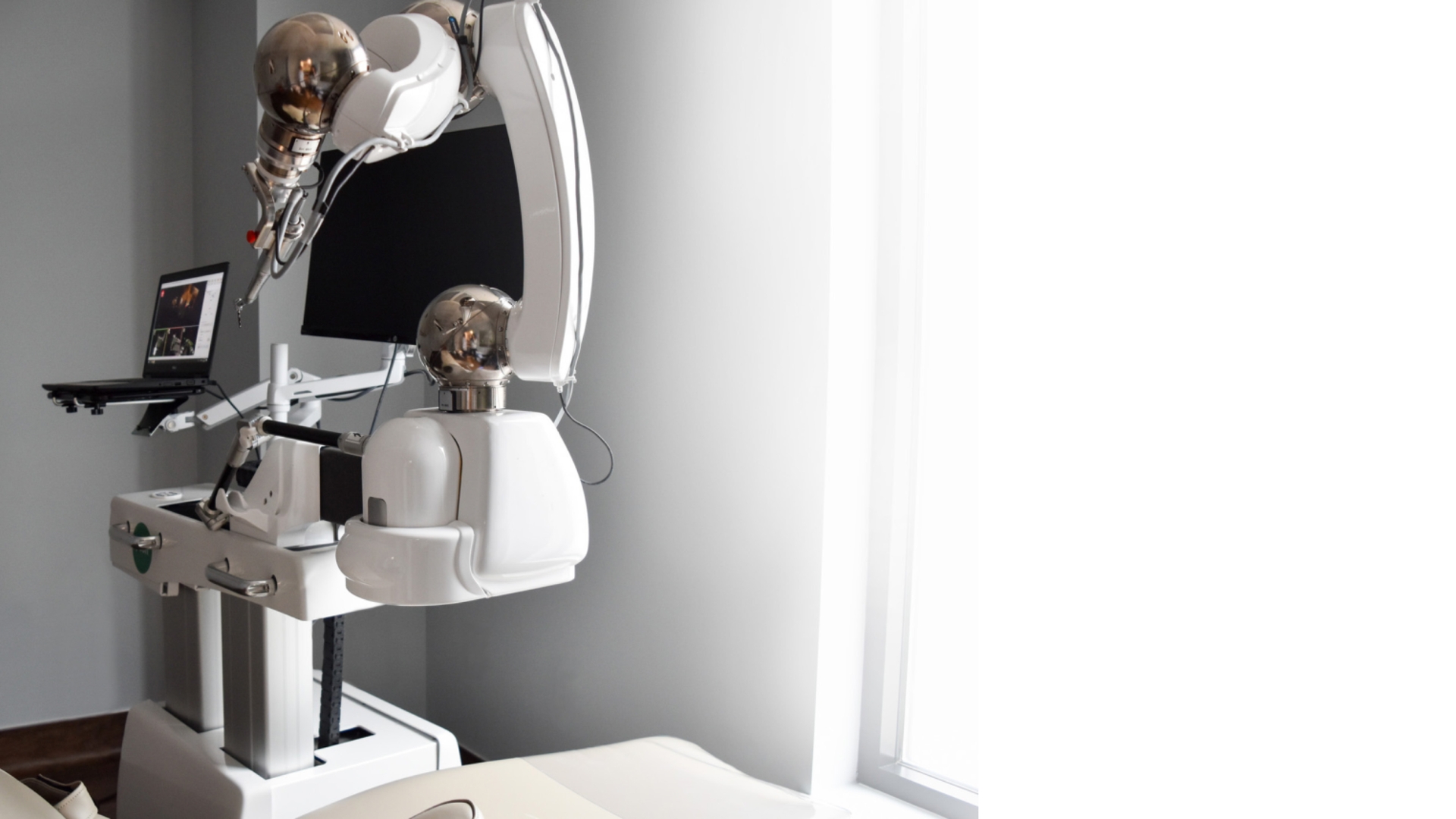 THE FIRST PRACTICE IN COLORADO!
OFFERING ROBOT ASSISTED SURGERY WITH YOMI®.
Yomi is only FDA Cleared Robotic device for oral surgery
CALL FOR AN APPOINTMENT
Call our office to schedule an appointment for any procedure.
(719) 264 - 6070 | Main
3475 BRIARGATE BLVD, #102
COLORADO SPRINGS, CO 80920
CALL FOR AN APPOINTMENT
Call our office to schedule an appointment for any procedure.
(719) 264 - 6070 | Main
contact us
let's get in touch