wisdom teeth
Home /
extractions
/ wisdom teeth
Many teens and young adults may be unaware that they have an additional set of molars growing under the surface of their gums that can cause significant problems. These teeth are called third molars but are better known as wisdom teeth. Unfortunately, they are often undetectable without regular dental examinations or until they become a problem. They grow beneath the surface of the gums, and an X-ray will determine if they are present. Sometimes, the teeth will partially emerge from the gums but not grow in completely.
At Pikes Peak Oral Surgery & Dental Implant Center in Colorado Springs, CO, we recommend that wisdom teeth removal happens early, preferably during the mid to late teens, even if they haven't emerged from the gums. Since the roots of these teeth have not fully developed, the extraction process is easier on the patient if they are removed early. Younger patients are also more likely to experience a faster recovery after surgery and avoid serious complications.
Although a small percentage of people have enough room for full development and use, a majority of people do not have enough room within their jaw for these teeth to grow in properly. Improper growth can result in many problems with the adjacent teeth or surrounding areas.
Why should I get my third molars removed?
Patients are more susceptible to an array of oral problems, including
Swelling, tenderness, and pain in the mouth
Cavities and decay of nearby molars
Gum disease, including gingivitis and periodontal disease
Increased risk of tumor growth and cyst development
Severe dental infections
Bacterial overgrowth resulting in bad breath
Sensation of dental crowding, pressure, and teeth shifting throughout the mouth
The Removal Process
Before your extractions, you will receive a thorough oral examination, including routine X-rays or 3D scans, to determine the position and size of the teeth. Dr. Kunkel has been comprehensively trained to administer anesthesia, and our office offers multiple anesthetic options. You will choose whichever anesthetic you are most comfortable with, and we will also provide you with instructions for your pre- and post-operative care.
At a later date, you will return to the office for your surgical appointment. Dr. Kunkel will administer your anesthesia and ensure you are comfortable before beginning the procedure. He will start by exposing the teeth in the gums, removing any bone or growths that may be blocking the removal path. Then, he will carefully extract the teeth — in some cases, he will break the teeth into smaller pieces to make the process easier. This also accounts for smaller surgical sites and an easier recovery process. Once your gums have been stitched up, you will be sent home to rest and recuperate.
Wisdom Teeth Removals in Colorado Springs, CO
Our skilled surgeon and highly trained office staff in Colorado Springs, COwill answer any questions you may have, including those about cost, before your procedure to ensure that you are fully informed and prepared for your treatment. At Pikes Peak Oral Surgery & Dental Implant Center, we do everything in our power to make sure you have a comfortable procedure with a rapid recovery and optimum result.
Testimonials
I'm Michael Wooden, originally from Columbus, Georgia. Retired military and now I live in Fountain, Colorado. I came to Pikes Peak Oral Surgery because the VA referred me. Five teeth, including four wisdom teeth, being removed and a bone graft. I was absolutely nervous when I came in. The staff was real friendly, and they gave me a lot of information, you know. Usually, people hold back the information because they don't want to freak you out, but they gave me the information and just kind of made me comfortable with it. It was easier than I thought it was going to be. I came in; the staff prepped me fairly quickly. Literally, I fell asleep and woke up, and the procedure was done. If I had any friends or colleagues that were looking to do any oral surgery or anything of that nature, and it was feasible for them to come to Colorado Springs, I would recommend Pikes Peak Oral Surgery, like ten times out of ten.
- Michael
Hello. My name is Tarik, and I'm from Colorado Springs. I came here to get my wisdom teeth removed. I was a little bit nervous when I came here, but Dr. Kunkel and his staff, they made me feel welcomed and calmed my nerves down a little bit. Dr. Kunkel was awesome. He explained everything through; he made everything seem so simple. Really respectful guy; I like him a lot. The procedure went really well. It was a lot less painful than I expected. If any of my friends in Colorado Springs, Fountain, or even Monument wanted to come get their wisdom teeth out, I'd definitely recommend Dr. Kunkel.
- Tarik
My name is Chris. I'm pretty much from everywhere, though, because I was a military brat, and I'm retired from the Army so I settled down in Colorado Springs. I had to get an extraction done on one of my wisdom teeth, and the staff here was just excellent. They didn't make you feel like it was a business or anything. They were just so kind — just like being part of your family. Dr. Kunkel is outstanding. He's probably the best dentist I've ever seen, and I been around for a while, so . . . . When he pulled the tooth, it was immaculate. Recovery was excellent. I mean, I came here for three follow-ups; he made sure that everything was healing properly, and it did, to a T. If anybody in the surrounding cities of Colorado Springs, Manitou Springs, Peyton — I would highly recommend Dr. Kunkel for any kind of extractions or oral surgery.
- Chris
Hi. My name is Shana, and I'm from Colorado Springs, Colorado. I came to see Dr. Kunkel because I heard such good recommendations about him and that he was just a really good oral surgeon and that he would take really good care of me. When I came in, I was really nervous. I was scared to death. I was nervous that I would have a complication or something, and that something would go wrong, or that I wouldn't be able to talk for days on days on days. The staff helped eased my nerves because they just made me feel really relaxed and kind of at home, made jokes at me and laughed and just made the whole process so simple and so easy that it just made me feel comfortable. My interaction with Dr. Kunkel was really good. He's an awesome doctor, and I would recommend him for anybody. I actually got them out last Thursday, so I've been doing really good. No bruising, no swelling, no complications. Everything's okay. If any of my friends need to get their wisdom teeth out here in Colorado around Monument, Pueblo, and Denver, I would definitely recommend Dr. Kunkel.
- Shana
Hello. My name is Kyle, and I'm a local here in Colorado Springs. I came to Pikes Peak Oral Surgery. I broke my jaw last summer in a Ultimate Frisbee accident, and Dr. Kunkel and his staff was kind enough to take me in on a Thursday and then scheduled the surgery for Friday. The staff's super friendly. You can tell that they do care about you, and Dr. Kunkel also takes the time to give you a call the day after the procedure, just ask how you are doing, and you can tell they go extra mile because they care about their patients. He's helped me out twice when I've been in a tough spot, so I appreciate everything that he's done for me. So, if anyone of my friends in the surrounding areas of the Colorado Springs, Denver, Pueblo, were looking to seek oral surgery or to have their wisdom teeth removed, I'd certainly recommend Dr. Kunkel.
- Kyle
Testimonials
Hello. My name's Diana; I'm from Monument, Colorado. I had an impacted wisdom tooth; this infection grew and grew. By the time I went to the emergency room, the infection had moved towards half my face and moving towards my neck. The ER doctors, they called in an oral surgeon who happened to be on call which I was very fortunate that that doctor was Dr. Kunkel. Dr. Kunkel checked on me every day and made sure that the antibiotics were the right ones to work for the infection that I had. The whole time, I felt I was in excellent hands, and he totally put me at ease through this whole procedure. I would recommend Dr. Kunkel and his staff to anyone.
- Diana
My first name is Rockey Bell; I'm from Colorado Springs, Colorado. I had this big lump inside my mouth, and I wasn't really sure what it was. It was a little painful, so I came here to see what they could do with that nasty-looking thing. I was very nervous because I had thought maybe it might be cancer, or I really didn't know what it was. Dr. Kunkel is a very proficient doctor. He's very intelligent, and he talks to you like you're human. I think the staff are amazing. They've helped me with every issue I've had. They made me feel comfortable. I would recommend anybody from Colorado Springs, Monument, Falcon to Dr. Kunkel.
- Rockey
I'm Andrea Brown, and I'm from Colorado Spring, Colorado. I came to Pikes Peak Oral Surgery because I had an abscessed tooth that was getting infected. Dr. Kunkel did an extraordinary job in treating me, in diagnosing me, and I feel real comfortable that I'm on the road to recovery right now. The staff at Dr. Kunkel's office is just wonderful. I bring them treats. They are so sweet. They are terrific. It's a real nice, friendly, tight-knit group. If I were to recommend an oral surgeon to any of my friends in Peregrine or Briargate, I would definitely recommend Dr. Kunkel. I've been thrilled with his care.
- Andrea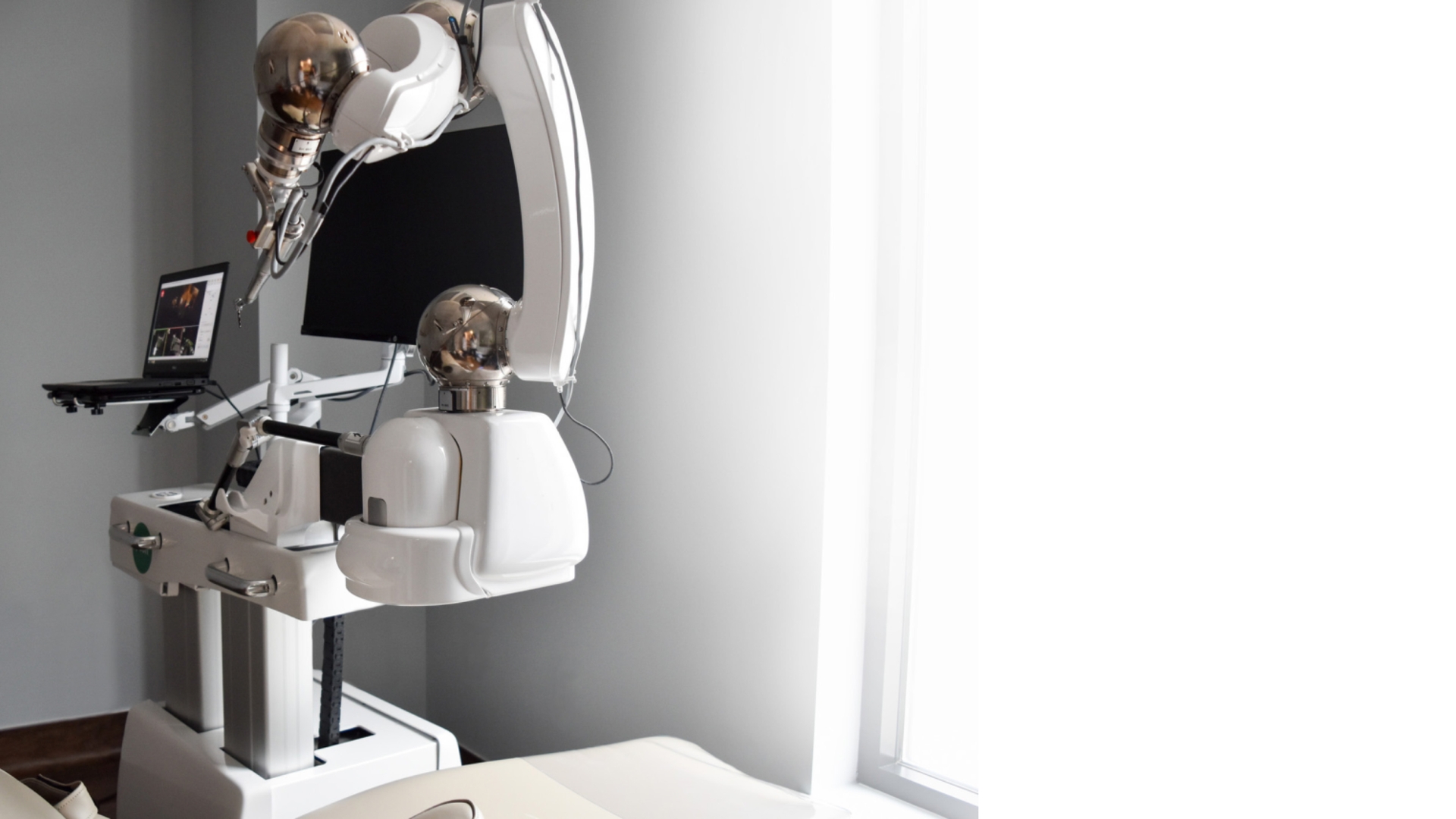 THE FIRST PRACTICE IN COLORADO!
OFFERING ROBOT ASSISTED SURGERY WITH YOMI®.
Yomi is only FDA Cleared Robotic device for oral surgery
CALL FOR AN APPOINTMENT
Call our office to schedule an appointment for any procedure.
(719) 264 - 6070 | Main
3475 BRIARGATE BLVD, #102
COLORADO SPRINGS, CO 80920
CALL FOR AN APPOINTMENT
Call our office to schedule an appointment for any procedure.
(719) 264 - 6070 | Main
contact us
let's get in touch