facial trauma
Home /
cosmetic dentistry
/ facial trauma
There are millions of cases of facial trauma admitted each year to hospitals in the United States. Whether you have a major facial injury that requires hospitalization or a minor oral injury, oral and maxillofacial surgeons are trained specialists in the treatment of oral and facial trauma. In fact, oral surgeons can be busy members of any emergency room trauma team.
Oral and maxillofacial surgeons complete intensive training during their education that allows them to address a wide range of surgical problems. After completing four or more years of comprehensive surgical training and medical education, in addition to their dental school training, they are extremely qualified experts in repairing jaw function, restoring the aesthetics of facial proportions, and replacing damaged or missing teeth.
It is important to know that each facial trauma case is unique. There are several different ways that the face and mouth can be affected by trauma situations. Some of the more frequent facial trauma injuries include
Avulsed (knocked-out) teeth
Facial lacerations
Fractured facial bones (cheek, nose, or eye socket)
Fractured jaws (upper and lower jaw)
Oral lacerations
What causes facial trauma?
Numerous events can contribute to facial trauma injuries, including falls, sports injuries, physical assaults, automobile accidents, work-related injuries, and accidents in the home. The kind of injury sustained will determine the course of treatment that is necessary. Minor injuries, such as knocked-out teeth or a facial laceration, may only require a dental implant or sutures while serious incidents may involve a more complex approach and require more than one treatment. The most common kinds of facial trauma injury include
Soft Tissue Injuries. Soft tissue injuries, such as lacerations, occur on the face and are commonly repaired with sutures. Dr. Kunkel takes special care and carefully inspects all soft tissue injuries to ensure the most aesthetically pleasing cosmetic outcome and make sure that damage has not occurred in other important areas of the face such as the salivary glands, facial nerves, and salivary ducts.

Bone Injuries. In general, bone injuries to the mouth or jaw are treated like the fractures in other parts of the body. Treatment for fracture stabilization and healing varies. Sometimes wiring the jaws together or placing small surgical plates and screws within the area of injury will correct the damage. Dr. Kunkel takes great care to ensure that the patient's facial appearance and function are restored.

Injuries to the Teeth and Dental Structures. Isolated injuries to teeth are quite common. Oral surgeons treat fractures in the supporting bone or have to replant teeth that have been knocked out. If injured teeth cannot be saved or repaired, bone grafting and dental implants are often utilized as the best form of replacement for missing teeth.
It is important to treat cases of facial trauma in a timely manner to avoid the long-term problems that may arise if left untreated. If you have suffered a facial injury of any sort, we encourage you to contact Pikes Peak Oral Surgery & Dental Implant Center immediately. We are compassionate about helping to restore oral and maxillofacial function and aesthetics to every patient who has been in a trauma situation.
Testimonials
My name is Leslie, and I'm from Colorado Springs, Colorado. My entire lower jaw was shattered, and he put in two plates and, I believe, 12 screws. Dr. Kunkel came to me in the hospital in my initial interaction with him. It was a time in my life that was really hard and not so fun, and I was scared and in a lot of pain. And he actually was really calming. He helped me understand what was happening, what he was going to do. He's my favorite doctor to this day, of any of the doctors that I've ever seen in my whole life. Very attentive, just a really good guy, high integrity. Does exactly what he says, and eased my fears, and just, I had a really good experience. I love all the staff here. They're always helpful, they're really welcoming. They're always real supportive and real comforting, so that was nice. Yes, I would recommend Dr. Kunkel.
- Leslie
Hi, my name is Ron, and I'm from Colorado Springs. What happened to me is I had a major bicycle accident, road bike, and I went over the front, landed on my face. I was taken to the hospital immediately, and I was very, very happy Dr. Kunkel was on duty that day. He had to basically push and lift my upper jaw back into position and then secure it with titanium plates underneath my cheeks. As a result, at the end, I was able to basically bite and chew normally. Since my surgery, I feel absolutely normal. The staff is excellent, and I just really enjoyed coming here. Dr. Kunkel could be my son, and if he was, I'd really be proud of him. I would highly recommend him for any of your oral surgery needs; I wouldn't go to anyone else.
- Ron
Hello. My name is Kyle, and I'm a local here in Colorado Springs. I came to Pikes Peak Oral Surgery. I broke my jaw last summer in a Ultimate Frisbee accident, and Dr. Kunkel and his staff was kind enough to take me in on a Thursday and then scheduled the surgery for Friday. The staff's super friendly. You can tell that they do care about you, and Dr. Kunkel also takes the time to give you a call the day after the procedure, just ask how you are doing, and you can tell they go extra mile because they care about their patients. He's helped me out twice when I've been in a tough spot, so I appreciate everything that he's done for me. So, if anyone of my friends in the surrounding areas of the Colorado Springs, Denver, Pueblo, were looking to seek oral surgery or to have their wisdom teeth removed, I'd certainly recommend Dr. Kunkel.
- Kyle
Testimonials
Hello. My name's Diana; I'm from Monument, Colorado. I had an impacted wisdom tooth; this infection grew and grew. By the time I went to the emergency room, the infection had moved towards half my face and moving towards my neck. The ER doctors, they called in an oral surgeon who happened to be on call which I was very fortunate that that doctor was Dr. Kunkel. Dr. Kunkel checked on me every day and made sure that the antibiotics were the right ones to work for the infection that I had. The whole time, I felt I was in excellent hands, and he totally put me at ease through this whole procedure. I would recommend Dr. Kunkel and his staff to anyone.
- Diana
My first name is Rockey Bell; I'm from Colorado Springs, Colorado. I had this big lump inside my mouth, and I wasn't really sure what it was. It was a little painful, so I came here to see what they could do with that nasty-looking thing. I was very nervous because I had thought maybe it might be cancer, or I really didn't know what it was. Dr. Kunkel is a very proficient doctor. He's very intelligent, and he talks to you like you're human. I think the staff are amazing. They've helped me with every issue I've had. They made me feel comfortable. I would recommend anybody from Colorado Springs, Monument, Falcon to Dr. Kunkel.
- Rockey
I'm Andrea Brown, and I'm from Colorado Spring, Colorado. I came to Pikes Peak Oral Surgery because I had an abscessed tooth that was getting infected. Dr. Kunkel did an extraordinary job in treating me, in diagnosing me, and I feel real comfortable that I'm on the road to recovery right now. The staff at Dr. Kunkel's office is just wonderful. I bring them treats. They are so sweet. They are terrific. It's a real nice, friendly, tight-knit group. If I were to recommend an oral surgeon to any of my friends in Peregrine or Briargate, I would definitely recommend Dr. Kunkel. I've been thrilled with his care.
- Andrea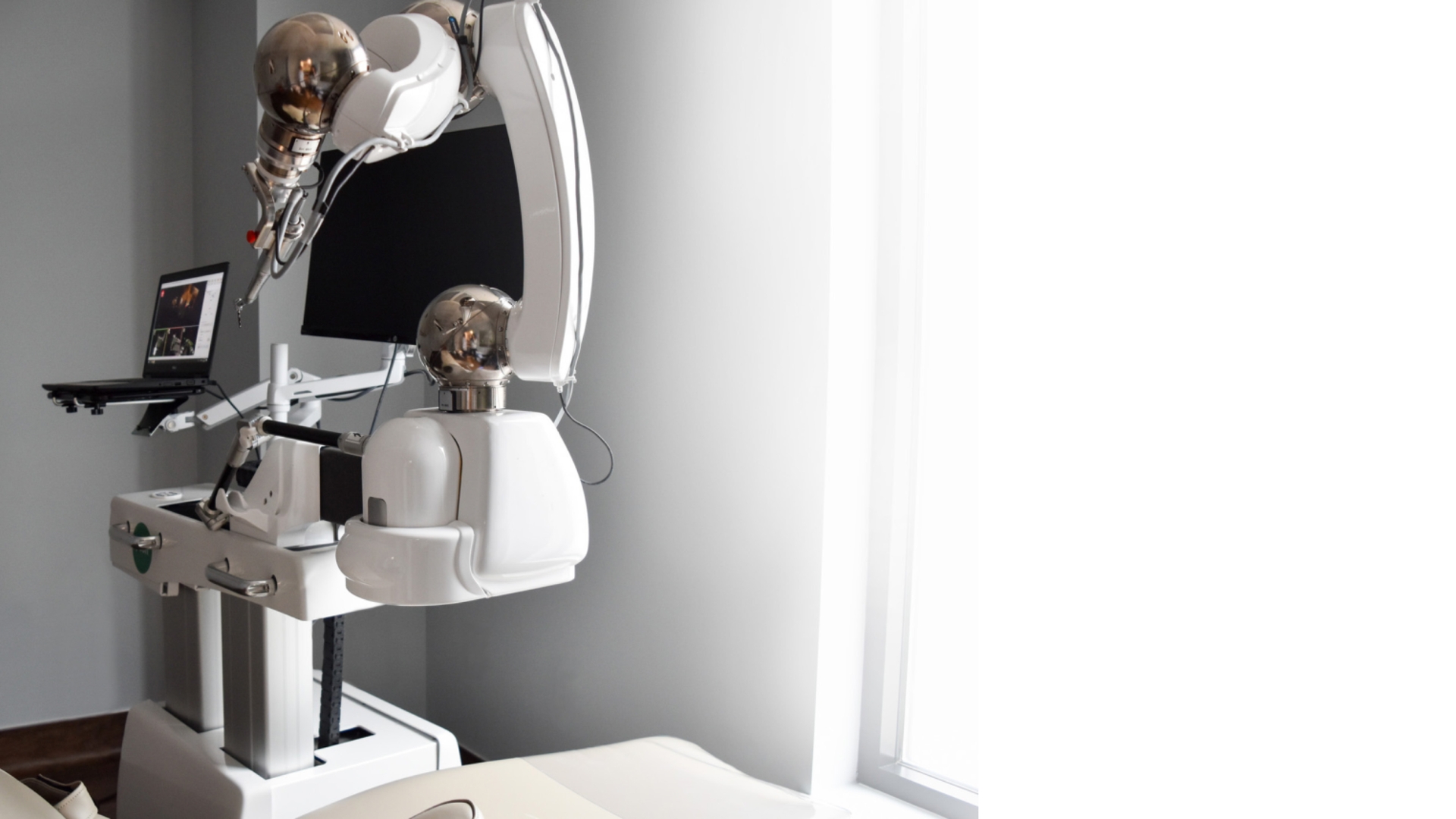 THE FIRST PRACTICE IN COLORADO!
OFFERING ROBOT ASSISTED SURGERY WITH YOMI®.
Yomi is only FDA Cleared Robotic device for oral surgery
CALL FOR AN APPOINTMENT
Call our office to schedule an appointment for any procedure.
(719) 264 - 6070 | Main
3475 BRIARGATE BLVD, #102
COLORADO SPRINGS, CO 80920
CALL FOR AN APPOINTMENT
Call our office to schedule an appointment for any procedure.
(719) 264 - 6070 | Main
contact us
let's get in touch