finance & insurance
Home /
patient center
/ finance & insurance
Dr. Kunkel and his staff welcome you to our office, and we thank you for choosing us as your healthcare provider. We are committed to delivering your care in the most considerate and professional manner. Please understand that payment of your bill is considered a part of your treatment. The following is a statement of our financial policy, which we require you to read and sign before any evaluation or treatment.
Our Financial Policy
Our office has established procedures that maintain quality care at a reasonable cost for our patients. Charges for your exam, x-rays, and any other diagnostic aids obtained during your first appointment are due at that time. These fees will be filed to your insurance. Any payments received by your insurance for these charges will be applied to your account if there is a current balance or a refund will be issued to you. If your surgery is not covered by insurance, or if you desire to have your exam and treatment performed on the same day (e.g., emergency patients), we will require payment in full by cash, credit card, personal check, or cashier's check before any treatment. The fees quoted are an estimate only. If the procedure proves to be more complex than anticipated, the fees will be adjusted accordingly. The stated fees will be honored for six months.
Your insurance coverage
As a courtesy to you, we will file your insurance claim, and we will accept payment of insurance benefits after your first visit. However, based on what your insurance company reports to us, we do require that your estimated portion of treatment, including any deductible, be paid at the time of surgery. If your insurance company has not paid your account in full within 60 days, the account will be due, and you will be sent a statement requiring payment of the balance within the next 10 business days. Once all insurance benefits are received, we will gladly reimburse you any overpayment. We must remind our patients that insurance is a contract between you and your insurance company to pay certain amounts for medical care. Your bill is not a contract between you and your doctor, even when we file the insurance claim for you. In short, you are responsible for any and all charges not paid by your insurance carrier, and your financial obligation for payment is not dependent on insurance coverage.
Regarding Managed Care Plans in which we are a participating provider, all co-pays and deductibles are due before treatment. If your insurance coverage changes to a plan in which we are not participating providers, refer to the above paragraph. If you have Medicare, you must sign a "private contract" showing you will be responsible for all charges. As a service to our patients, we are pleased to participate in the following credit plan: Care Credit and Lending Club.
Usual & customary rates
Our practice is committed to providing the best treatment for our patients, and we charge what is usual and customary for our area. You are responsible for payment regardless of any insurance company's arbitrary "schedule" of fees, which often bears no relationship to the current standard and cost of care in this area.
Delinquent Accounts
All accounts which remain unpaid after the aforementioned period of time will be sent to our collection services. We realize that temporary financial problems may affect timely payment of your account. If such problems arise, we encourage you to contact us promptly for assistance in the management of your account.
We do ask you to be on time to your appointment. If you are late, your appointment may be rescheduled at the office's discretion. This is so we can give you the necessary attention and best possible care.
A service charge of $75.00 will be added if a surgery appointment is canceled less than 24 hours from the appointment. A service charge of $25.00 will be assessed on all returned checks. Should it become necessary for this office to employ an attorney to enforce payment for treatment rendered, the patient agrees to pay reasonable attorney's fees, court costs, and interest incurred for such enforcement.
Thank you for taking your time to review our financial policy. Should you have any questions or concerns, we would welcome the opportunity to discuss these with you.
Testimonials
Hello. My name's Diana; I'm from Monument, Colorado. I had an impacted wisdom tooth; this infection grew and grew. By the time I went to the emergency room, the infection had moved towards half my face and moving towards my neck. The ER doctors, they called in an oral surgeon who happened to be on call which I was very fortunate that that doctor was Dr. Kunkel. Dr. Kunkel checked on me every day and made sure that the antibiotics were the right ones to work for the infection that I had. The whole time, I felt I was in excellent hands, and he totally put me at ease through this whole procedure. I would recommend Dr. Kunkel and his staff to anyone.
- Diana
My first name is Rockey Bell; I'm from Colorado Springs, Colorado. I had this big lump inside my mouth, and I wasn't really sure what it was. It was a little painful, so I came here to see what they could do with that nasty-looking thing. I was very nervous because I had thought maybe it might be cancer, or I really didn't know what it was. Dr. Kunkel is a very proficient doctor. He's very intelligent, and he talks to you like you're human. I think the staff are amazing. They've helped me with every issue I've had. They made me feel comfortable. I would recommend anybody from Colorado Springs, Monument, Falcon to Dr. Kunkel.
- Rockey
I'm Andrea Brown, and I'm from Colorado Spring, Colorado. I came to Pikes Peak Oral Surgery because I had an abscessed tooth that was getting infected. Dr. Kunkel did an extraordinary job in treating me, in diagnosing me, and I feel real comfortable that I'm on the road to recovery right now. The staff at Dr. Kunkel's office is just wonderful. I bring them treats. They are so sweet. They are terrific. It's a real nice, friendly, tight-knit group. If I were to recommend an oral surgeon to any of my friends in Peregrine or Briargate, I would definitely recommend Dr. Kunkel. I've been thrilled with his care.
- Andrea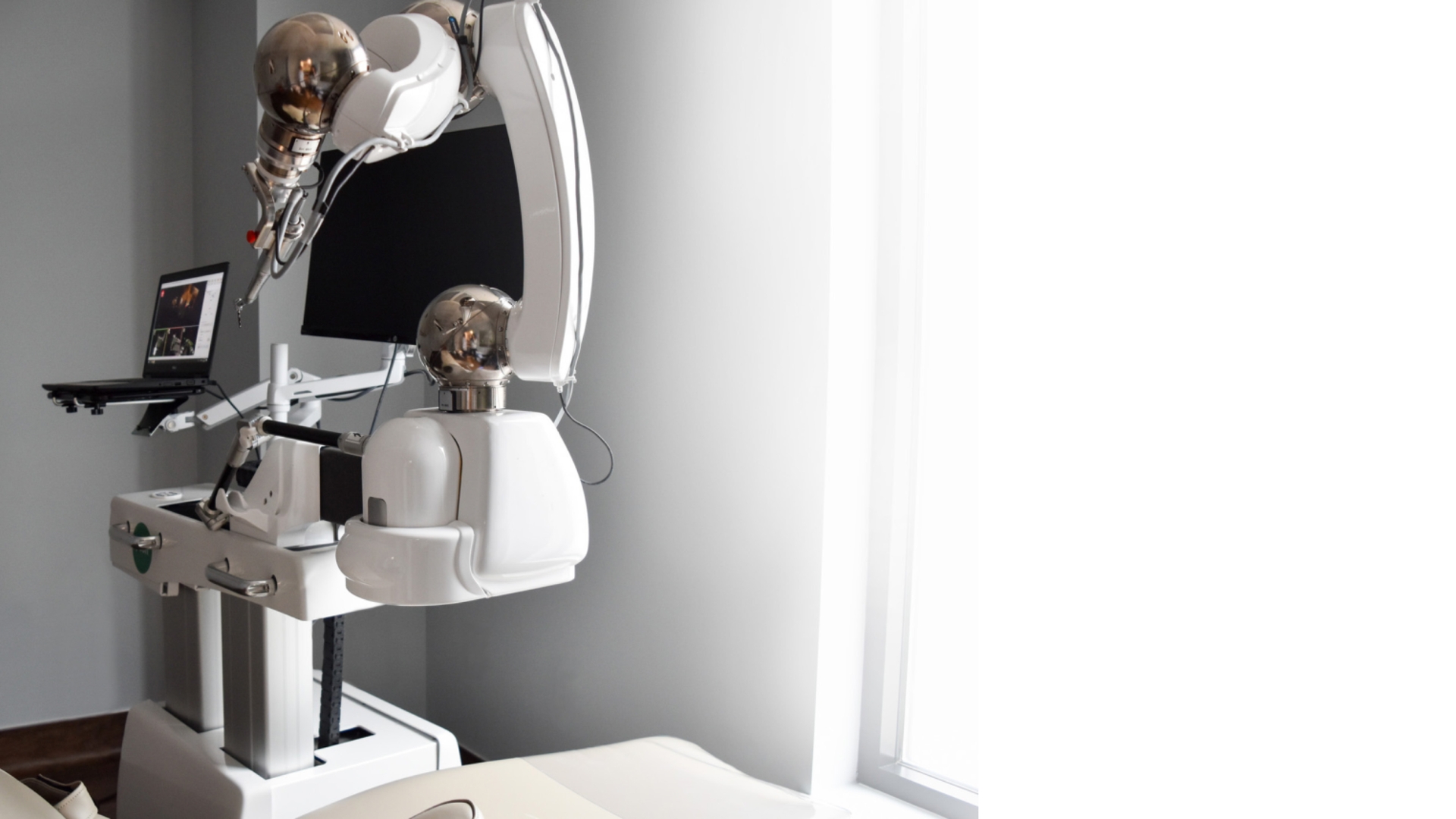 THE FIRST PRACTICE IN COLORADO!
OFFERING ROBOT ASSISTED SURGERY WITH YOMI®.
Yomi is only FDA Cleared Robotic device for oral surgery
CALL FOR AN APPOINTMENT
Call our office to schedule an appointment for any procedure.
(719) 264 - 6070 | Main
3475 BRIARGATE BLVD, #102
COLORADO SPRINGS, CO 80920
CALL FOR AN APPOINTMENT
Call our office to schedule an appointment for any procedure.
(719) 264 - 6070 | Main
contact us
let's get in touch