post procedure
Home /
patient center
/ post procedure
Swelling
Swelling is the body's normal response to surgery and the beginning of the healing process. It varies among individuals and according to different procedures. Swelling will increase over the first 48–72 hours and subside over the course of 1 week. Sometimes swelling may persist for greater than 1 week, depending on the individual or procedure. Apply cold packs (15 minutes on, 15 minutes off) for the first 48 hours while awake. Keep the head elevated for the first 72 hours using pillows under the back and head while sleeping to reduce swelling.
Bleeding
Minor bleeding or blood-tinged saliva may occur for the first 24–48 hours. Bite on gauze for 2–3 hours following the surgery. If heavy bleeding still occurs, either replace with new gauze or a moist tea bag and bite for an additional 1–2 hours. The key to stop bleeding is firm pressure on the location that is bleeding. Avoid drinking through a straw, sucking on candy, or smoking for at least 1 week following your surgery, as this can cause bleeding or result in a dry socket.
Pain
Medication has been prescribed according to your anticipated level of discomfort. Take pain medication before the numbness from the local anesthesia is gone. Repeat as needed according to the schedule printed on the prescription bottle. Eating or drinking prior to taking pain medication will help to avoid nausea. Do not drive, operate hazardous machinery, or drink alcohol while taking the pain medications. You may also take 2 ibuprofen (Advil®) every 6 hours beginning the day before surgery and continue taking them along with your prescription medications after surgery. Do not exceed the prescribed or recommended dosage, as this can lead to overdose, organ damage, or even death.
Rinsing
You may drink, but do not rinse your mouth for the first 24 hours following surgery. After 24 hours, gently rinse your mouth with warm salt water (1 teaspoon of salt in a glass of warm water) 3–4 time a day. Continue rinsing until you return for your post-op exam. You may gently brush your teeth the day after surgery, being careful in the area where surgery was performed.
REMINDER: Starting 4 days after surgery, use the syringe to irrigate after meals and at bedtime. Do so until the sockets are healed. This will help to remove food debris.
Peridex Mouth Rinse: If you have been prescribed Peridex mouth rinse, begin using this on the third day following your surgery.
Diet
After surgery, a soft liquid diet may be best for the first 48 hours. Cool foods, such as milkshakes and lukewarm soups may be the most comfortable. You may begin drinking once bleeding is well-controlled. Eating may resume once numbness from your tongue is gone to avoid biting your tongue.
Sutures
If sutures were placed, they will dissolve on their own, unless you were told that non-dissolving suture were used. Sutures may loosen or come out prior to your next appointment.
Be assured that our interest in your well-being does not end with your surgery. If you have any questions or problems, please call us at the office number. Help will always be available. A post-op appointment will be made for approximately 1 week after surgery, but we would be happy to see you sooner should the need arise.
Please call the office with any questions regarding your after-surgery care.
Testimonials
Hello. My name's Diana; I'm from Monument, Colorado. I had an impacted wisdom tooth; this infection grew and grew. By the time I went to the emergency room, the infection had moved towards half my face and moving towards my neck. The ER doctors, they called in an oral surgeon who happened to be on call which I was very fortunate that that doctor was Dr. Kunkel. Dr. Kunkel checked on me every day and made sure that the antibiotics were the right ones to work for the infection that I had. The whole time, I felt I was in excellent hands, and he totally put me at ease through this whole procedure. I would recommend Dr. Kunkel and his staff to anyone.
- Diana
My first name is Rockey Bell; I'm from Colorado Springs, Colorado. I had this big lump inside my mouth, and I wasn't really sure what it was. It was a little painful, so I came here to see what they could do with that nasty-looking thing. I was very nervous because I had thought maybe it might be cancer, or I really didn't know what it was. Dr. Kunkel is a very proficient doctor. He's very intelligent, and he talks to you like you're human. I think the staff are amazing. They've helped me with every issue I've had. They made me feel comfortable. I would recommend anybody from Colorado Springs, Monument, Falcon to Dr. Kunkel.
- Rockey
I'm Andrea Brown, and I'm from Colorado Spring, Colorado. I came to Pikes Peak Oral Surgery because I had an abscessed tooth that was getting infected. Dr. Kunkel did an extraordinary job in treating me, in diagnosing me, and I feel real comfortable that I'm on the road to recovery right now. The staff at Dr. Kunkel's office is just wonderful. I bring them treats. They are so sweet. They are terrific. It's a real nice, friendly, tight-knit group. If I were to recommend an oral surgeon to any of my friends in Peregrine or Briargate, I would definitely recommend Dr. Kunkel. I've been thrilled with his care.
- Andrea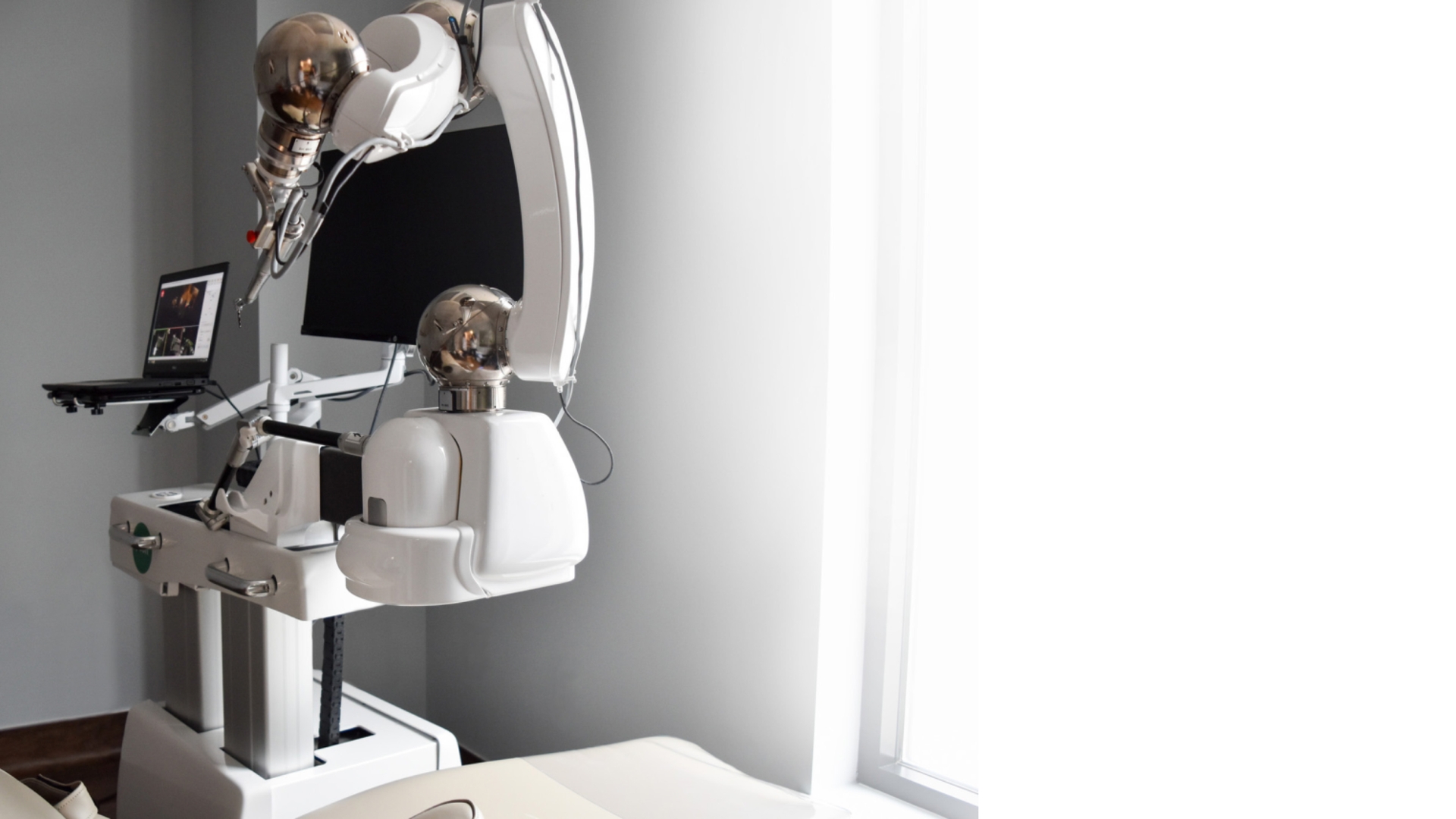 THE FIRST PRACTICE IN COLORADO!
OFFERING ROBOT ASSISTED SURGERY WITH YOMI®.
Yomi is only FDA Cleared Robotic device for oral surgery
CALL FOR AN APPOINTMENT
Call our office to schedule an appointment for any procedure.
(719) 264 - 6070 | Main
3475 BRIARGATE BLVD, #102
COLORADO SPRINGS, CO 80920
CALL FOR AN APPOINTMENT
Call our office to schedule an appointment for any procedure.
(719) 264 - 6070 | Main
contact us
let's get in touch